Cadmium Test Kit with 5 Swabs for Only $29.99 & FREE Shipping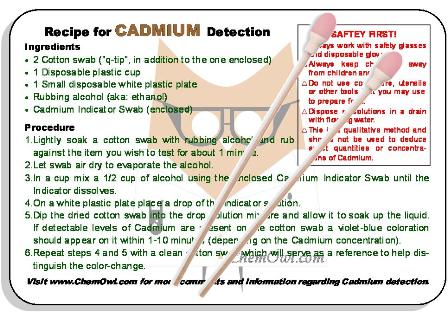 Cadmium Test Kit - Order Now for Only $29.99!
* Including 5 Swabs - Good for More than 50 Tests
* FREE Shipping and Handling
Concerned about your family's exposure to Cadmium?... Just Check It!
We're happy to offer our user-friendly Cadmium test kit, including our specialty Cadmium indicator and easy-to-follow detection recipe, for simple and reliable detection of hazardous Cadmium in your own home and as a great science project idea.
Cadmium is a toxic and cancer-causing heavy metal that may be found in:
• Colors & pigments (especially red, orange and yellow)
• Metallic coatings of fixtures and accessories
• Plastics (PVC)
• Cigarettes
• Meat (especially liver and kidneys)
• Ni-Cd batteries
• Fertilizers
• Silver solder in electronics
Cadmium accumulates in our bodies and throughout the environment. It is industrially used in pigments, as a coating for steel and copper, as an additive in plastics, in batteries and in solar panels. Exposure to Cadmium can cause sever respiratory, liver and kidney problems, which may be irreversible and fatal. Skeletal symptoms may include bone softening and lose of mineral density resulting in increased risk of fractures.
Cadmium testing is made easy by simply following the detection recipe and using the provided Cadmium indicator, which is delivered at the amount required and deposited on swabs for easy and safe handling. You will also receive the printed test recipe describing how to carry out the screening procedure. Simply place the swab in alcohol (as directed by the recipe) to prepare an active indicator solution and check for hazardous Cadmium in old water faucets and handles, plastic toys and much more.
Each kit contains 5 swabs and allows multiple tests to be carried out on a variety of products.
"Just Check It" and protect your loved ones.
All financial transactions are handled exclusively by PayPal's secure payment system, and Credit Cards are accepted, so none of your personal financial information is transferred to us or stored by us (see our purchase policy for more information regarding ordering, shipping and product returns).
Click here to view more test kits for detecting other hazardous chemicals, such as BPA, lead, mercury and parabens, as well as more great science project ideas.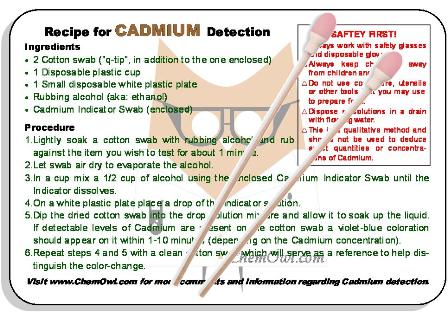 Cadmium Test Kit - Order Now for Only $29.99!
* Including 5 Swabs - Good for More than 50 Tests
* FREE Shipping and Handling